Price: 100.000đ/ time (Free the service for Pet Me customers)
Pet Me shop specializes in providing trimming wings, claws and parrot bathing services. Our services are carried out by professional, experienced and parrot-loved trainer. We are assured to make your parrots clean, fragrant, beautiful with neat wings and beautifully honed claws.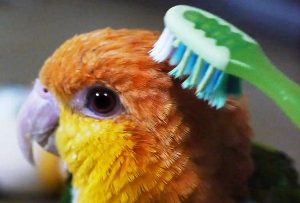 Beauty Services for Parrots
Specially, during our services, your parrots are checked about the general health status of wings fur and claws by Pet Me professional staffs. We are willing to recommend you the supporting methods. Health examination and recommendation are entirely free so that you can take care of your parrots better.
Beauty care, health examination at PET ME: 300,000đ
Beauty care, health examination in HCMC, Hanoi (2 times/month) – urban: 1,000,000đ
Beauty care, health examination in HCMC, Hanoi (2 times/month) – suburban: 1,200,000đ
For more detail info about specialized knowledge, process and price, Please contact Pet Me Shop
Hotline: 09797 09741 (Mr. Lê) – 091 709 6677 (Mr. Tài)
Showroom: Pet Me Coffee – 179 Nguyễn Quang Hưởng, Thảo Điền ward, HCMC